A professional and activist NGO
AVSF is an officially recognised non-profit association that promotes international solidarity, mobilising professionals in agriculture, livestock farming, animal health and local development.
For over 45 years, AVSF has provided smallholder communities and organisations with technical advice, training and financial support, while promoting the traditional knowledge of smallholder farmers.
Our goal is to defend their rights, improve their living conditions, contribute to the socio-economic development of their territories and protect the planet's resources.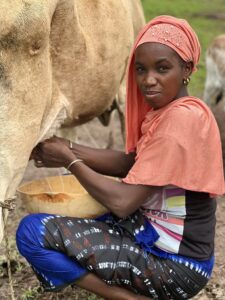 Intensive industrialised farming systems create serious economic, social and environmental imbalances, and are not able to feed the world.
In both the Global South and North, farming systems like these make smallholders dependent and do not allow them to earn a decent living from their land, their skills, or their work. These systems also threaten to upset major ecological balances.
We urgently need a paradigm shift that will put smallholder farming back in its rightful place as a system that offers sustainable innovations and solutions for humanity, life and the climate.
In the Global South, we support ambitious smallholder-farming and agroecological systems that can sustainably ensure the food security of cities and rural communities, reduce inequality and poverty, and promote the economic and social emancipation of men, women and young people in rural areas, and their organisations.
Promote effective agricultural and livestock-farming practices that help preserve the climate and biodiversity
Support smallholder livestock farming, and improve farmers' access to animal-health services
Build local and fair-trade supply chains that offer better remuneration for smallholders
Help rural communities become more resilient to conflicts and natural disasters
Defend the rights of smallholders, and open up future prospects for young people in their respective localities
Over 280 professionals working to support smallholder farming
Over 80% of the members of our technical team are from the countries where we carry out our projects.
AVSF's board of directors has 22 members and defines the organisation's strategic orientations, which are then voted on by the general assembly.
In the '80s, a severe drought endangering livestock farmers in northern Mali and a brutal economic shock impacting coffee producers in Peru drove a group of professionals to create our organisation in an effort to support these rural populations.
88% of our funds are directly allocated to our projects undertaken with smallholder populations and organisations.